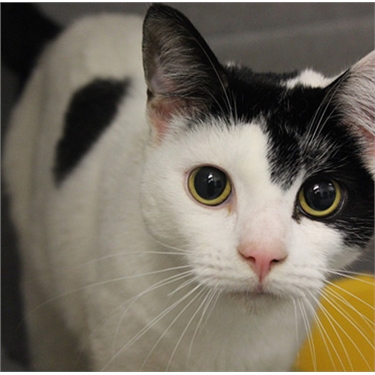 Cats Protection's Birmingham Adoption Centre has ensured that a young female cat has eight of her 'nine lives' still intact after a routine spay procedure uncovered an amazing discovery.
"Little Bella came in to the charity as a stray at the beginning of the month," says Bryan Cross, who works full time as a Cat Care Assistant at the centre.
"She is a fairly young cat, around 18 months old. She is black and white and very beautiful. As with all cats that come to us, we booked her in with our veterinarian to be vaccinated and spayed."
However, whilst Bella was under anaesthetic, the vet noticed an unusual object in Bella's stomach. Upon further examination, and the decision to explore with further surgery, a very sharp, flexible stick – three inches long – was discovered to be lodged in her colon.
The vet stated that if the stick, thought to be from a kebab, had encroached much further down Bella's intestines, then the consequences would surely have been fatal.
"So Bella had a very lucky escape – if we had not opened her up, we never would have found such a potential threat to her life," added Bryan.
Bella has recovered well from her ordeal and is a sociable and friendly girl. She would be best suited to a couple or a family with older children.
If you would like more information about Bella, or to find out more about the large number of cats and kittens that the Birmingham Adoption Centre have available, please visit www.birmingham.cats.org.uk or call 01564 822020.